Yield: 1
Home made Mayonnaise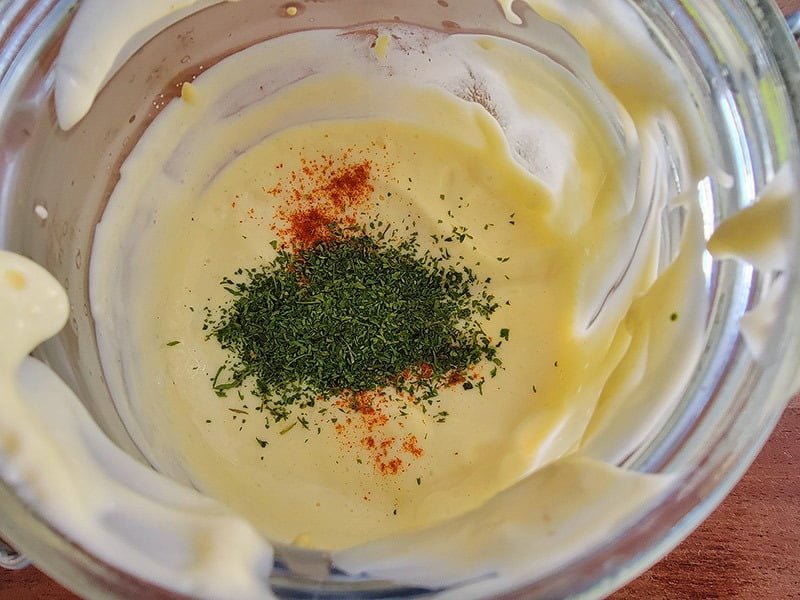 Quick and easy to make with few ingredients! Ideal on board or when camping. It can be prepared in small quantities.
Ingredients
250 ml (1 cup) vegetable oil (canola or olive)
15 ml (1 tablespoon) vinegar
10 ml (2 teaspoons / teaspoon) of Dijon mustard
1 medium egg
Salt and pepper to taste
Instructions
Add all the ingredients to a bowl where you can mix with a blender. Finish with the egg well in the center.
Mix well until the mayonnaise rises (between 20 and 30 seconds)
Enjoy!
Variations

Add 50 ml (two large tablespoons) of maple syrup! (Remember to remove 50 ml of oil)
Use fleur de sel, with maple syrup, it gives a nice sweet / salty effect
Notes
If you like olive oil, it gives a good taste. But you can use any vegetable oil. You can also add some spices: turmeric, cayenne pepper, smoked paprika, fine herbs, etc.
Manual mixer
Personally, I use this small manual mixer on board the VIKINGR. It is very practical, the beaters are easy to clean and it does not take up space!
Made of ABS and stainless steel
Dishwasher safe
Measures 12 " (30.5cm) high and 8.25 " (8.25cm) wide
* This link is an affiliate link. By making the purchase through an affiliate link, you are encouraging me to continue my blog. Also, if I suggest this product or service, it's because I have used it or because I think it could definitely be of use to you! These links do not change the price to the buyer in any way. Thank you very much!

Here! Hope you enjoyed this recipe ?!
If so, feel free to share it. It helps me with Google SEO and it doesn't cost you anything.
Also, you can subscribe to my private list, by entering your email address and your first name, at the bottom of this page. That way, you'll be notified when I publish a new article or a new recipe!
And finally, your opinion / comment is welcome!
May Odin be with you and enjoy your meal !!