This is the first of a series of two articles about compostable toilets.
Yes, I know, I have a fine nose!
Who has never dreamed of settling, once and for all, the issue of black waters (toilets!) in his boat? Anyway, it's been a dream of mine, not to say a fixation; that, and my stuffing box!
From the very day I bought my sailboat, there always was a faint smell circulating in the square! A skillful mixture of two «flavors» remaining well encapsulated in the flexible pipes: urine and stool. Yes, I know, I have a fine nose, but it is impossible to miss!
The VIKINGR was well equipped, though: manual Jabsco toilet, a high capacity aluminum tank, even a macerator… and tons of chemical products!
But nothing could be done, this odor, a little pungent and devious, kept tikling my nostrils, so much so that I decided to stop using it, right in mid-season. I drained it twice, even though I was no longer using it. I filled it with water and thoroughly rinsed it, the smell still kept coming back…
And, quite honestly, in Alberg 30 sailboats like mine, the tank being located in the center of the square, just below the table, I just couldn't bring myself to eat right above it. I couldn't help it, I had to find a solution.
And I found it!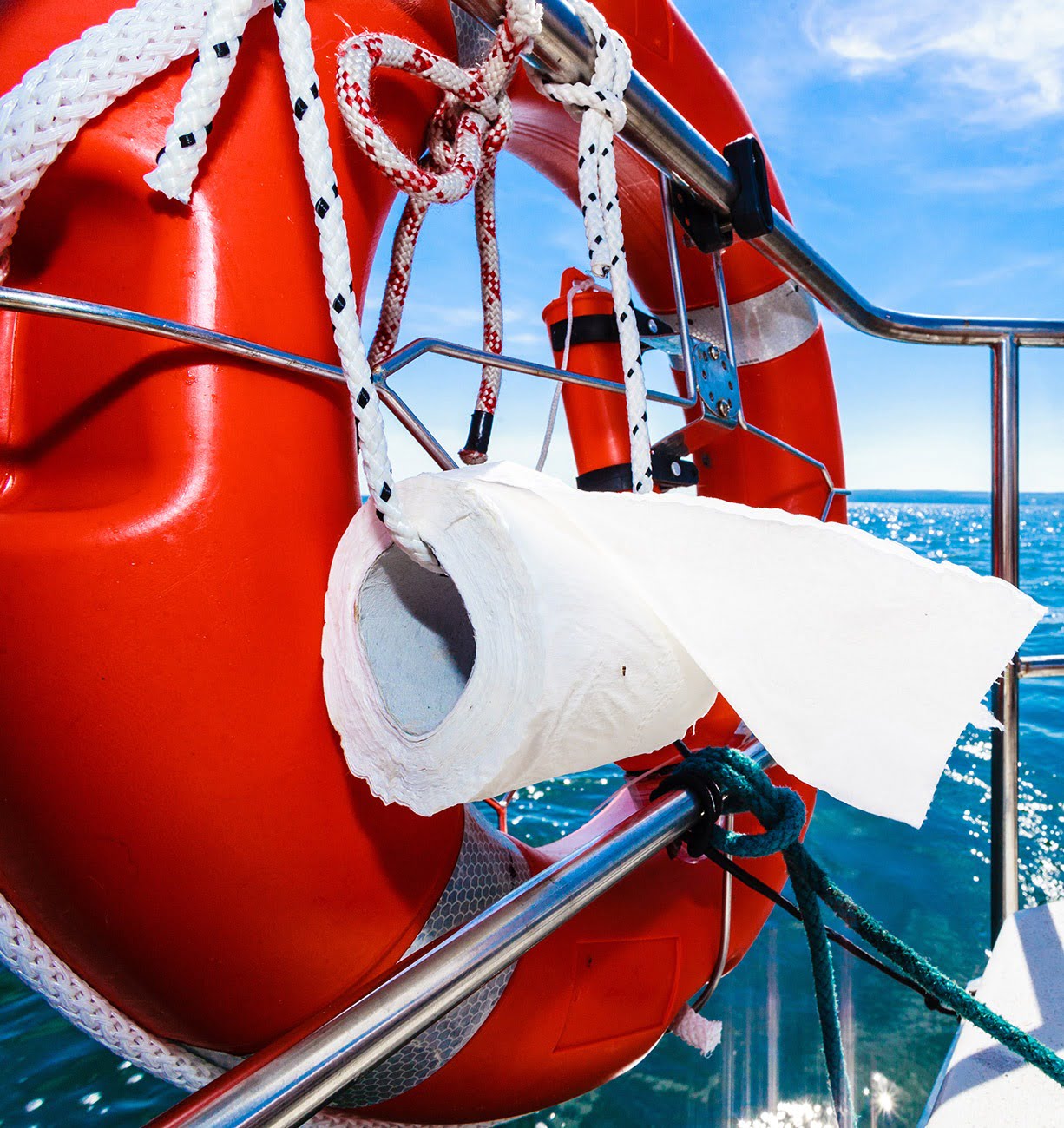 The compostable toilet!
But what is a compostable toilet?
A compostable toilet is one that works quite simply. When liquids are separated from solids, the volume of human solid waste is considerably reduced. Adding a composting product like peat moss and adequate negative ventilation allows for better evacuation of moisture in the unit where solid matter is stocked, and, ultimately, only compost remains.
How does a compostable toilet work?
Just like any domestic toilet, the compostable toilet has a bowl and an actuator that provides a flush. The main difference is in the waterless fonctionning. The bowl is protected with paper acting as filter supporting solids on their way toward the proper solids tank. These are then separated and agitated, broken down into a non offensive state inside a tank. Furthermore, an integrated fan produces negative pressure in order to evacuate moisture, thus creating and accelerating the composting process. Finally, liquid (urine) is separated and redirected toward a tank designed for that specific use.
Even after long stops, there is no ''retention tank'' odor when you get on board.
Which compostable toilet model to choose?
Defining one's needs, for one's "business"…
We all have special needs. I, for example, am alone most of the time, 4 or 5 months a year. My needs are, therefore, probably quite different than those of a family of 4 traveling all year long.
But is this really important for a compostable toilet's use?
The short answer is : no.
The sole difference will be, of course, to correctly instruct children on the use of a compostable toilet (friends and visitors also!) It will need to be emptied more often, depending on its usage. For the rest, it will surely answer everyone's needs.
Besides, the same goes for a conventional toilet. Pump outs come faster with 4 persons on board than with only one.
A little test before purchase? Why not, coconut!
Different compostable
toilet models I analysed.
Before purchasing my new compostable toilet, I did some research. In fact, I did very much of it. Let me tell you, for starters, it doesn't come cheap! But is it worth it?
I particularly focused on three models. I didn't test them in real life situation, mind you, but I read articles on dozens of forums, independent blogs like the VIKINGR, sought the opinion of many Quebec boaters and consulted all the available information on websites of companies offering compostable toilets.J
I arrested my choices on the following models (there are many more, but I believe these are the best choices offered to boat owners. They are also the ones on which I gathered the most documentation to read).
Air Head – C Head – Nature's Head
Size
Some say size is important! It is even more true for compostable toilets.
Because no, we don't have unlimited space on board. To replace our standard toilet by a compostable one of the same size would be ideal. Unfortunately, it's not always possible. Most of the compostable toilets are larger in size than our regular ones.
I chose the smaller models offered, with the options taking the less space on board, which most of the people would do, I think.
Nature's Head (Spider Handle Model ): Width: 17¾" Depth: 19″ Height: 20″
C-Head (Shorty Model): Width: 13¼" Depth: 18″ Height: 15″
Air-Head (Marine Hull Shape Model) Width: 18¾ " Depth: 15½" Height: 19½ "
Efficiency
It's hard to assess the efficiency of a compostable toilet. So many parameters have to be taken into account: the installation, the product used for composting, ventilation et usage! But, before we go further, a not so favorable note for the C-Head model that doesn't seem very adapted to ventilation: the company's blog doesn't even recommend ventilation for its dry toilet. It seems complicated. As you might suspect, ventilation is a ''must have'' on a boat. It's a bad start for this compostable toilet.
The Nature's Head and Air-Head models seem better adapted to ventilation, thus to the use on a boat. I really like the Air Head model that comes with handles for transportation, very handy for emptying and transportation at the end of the season. The urine recipient is also very useful. The one on the Air-Head is not transparent like the ones on the other models. I prefer this over having urine visible at all time, every day. I also prefer its style in general that seems better adapted for usage on my VIKINGR.
Price
Here we have an advantage for the C-Head model, the less expensive of all three. It should be noted, however, that it is less suitable for boats, sailboats in particular which are prone to pronounced heeling. Elements included on purchase of the compostable toilet should also be taken into account. In this regard, the Air-Head model offers a very complete starter kit, a little expensive, but the fan is included. When you add all the options, this model could be considered the less costly, ultimately.
Nature's Head : $995 US
C-Head : $925 US
Air-Head : $ 1,095 US
Ease of installation
All three models are alike. It is probably easier to install the C-Head. However, to my taste, this model is not suitable for sailing. The other two, Nature's Head and Air Head are better adapted, and their installation is similar. A special mention is to be made for the Air head model that is less deep, thus adjusting more to the hull because of its shape.
The decision was not so hard to make, all things considered.
Finally, my choice, and why
The C-Head is not suitable for sailing. Its compost recipient is not in the structure but aside. I don't like its style either and it's also too deep. I must eliminate that one from my list of potential choices. However, it would definitely be my choice for a chalet.
Only remaining are the Nature's Head and Air Head models. Both are very similar, but when you look closely, one of them is much more suitable for a sailboat: Air-Head. It is on this model that I made my choice.
It seems to be the best of the three models for adaptability, with its handles, for easier transportation, but also for its cleaning and emptying. The shape of the seat is almost identical to my conventional toilet's and fits easily where my previous one was. It is also the less deep of the three, this facilitating greatly its insertion. I also like the opacity of the urine recipient with only a little line as lever indicator. It is more hygienic and more agreeable to the eye. The seat also seems more comfy and its opening is facilitated.
And this Air-Head looks great. It's my choice!
Comparative table of compostable toilet models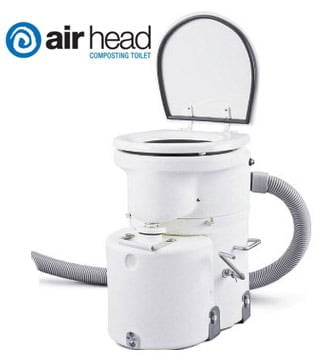 Model: Marine Hull Shape
Width: 18 ¾"
Depth: 15 ½"
Height: 19 ½"
Warranty: 5 years
Price : $1,095 USD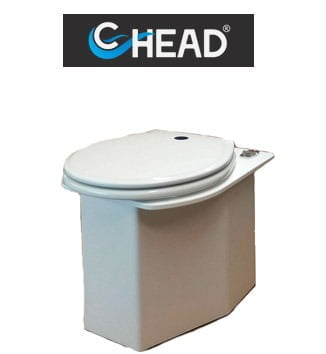 Model: Shorty
Width: 13¼"
Depth: 18″
Height: 15″
Warranty : to follow
Price: $925 USD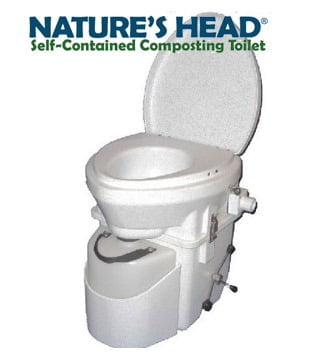 Model: Spider Handle
Width: 17 ¾"
Depth: 19″
Height: 20″
Warranty: 5 years
Price: $995 USD

Voilà! Hope you enjoyed this article ?!
If so, feel free to share it. It helps me with Google SEO and it doesn't cost you anything.
Also, you can subscribe to my private list, by entering your email address and your first name, at the bottom of this page. That way, you'll be notified when I publish a new article!
And finally, your opinion / comment is welcome!
May Odin be with you!
Sources: Respective company websites.
You can download this article in PDF format to print it or read it later.